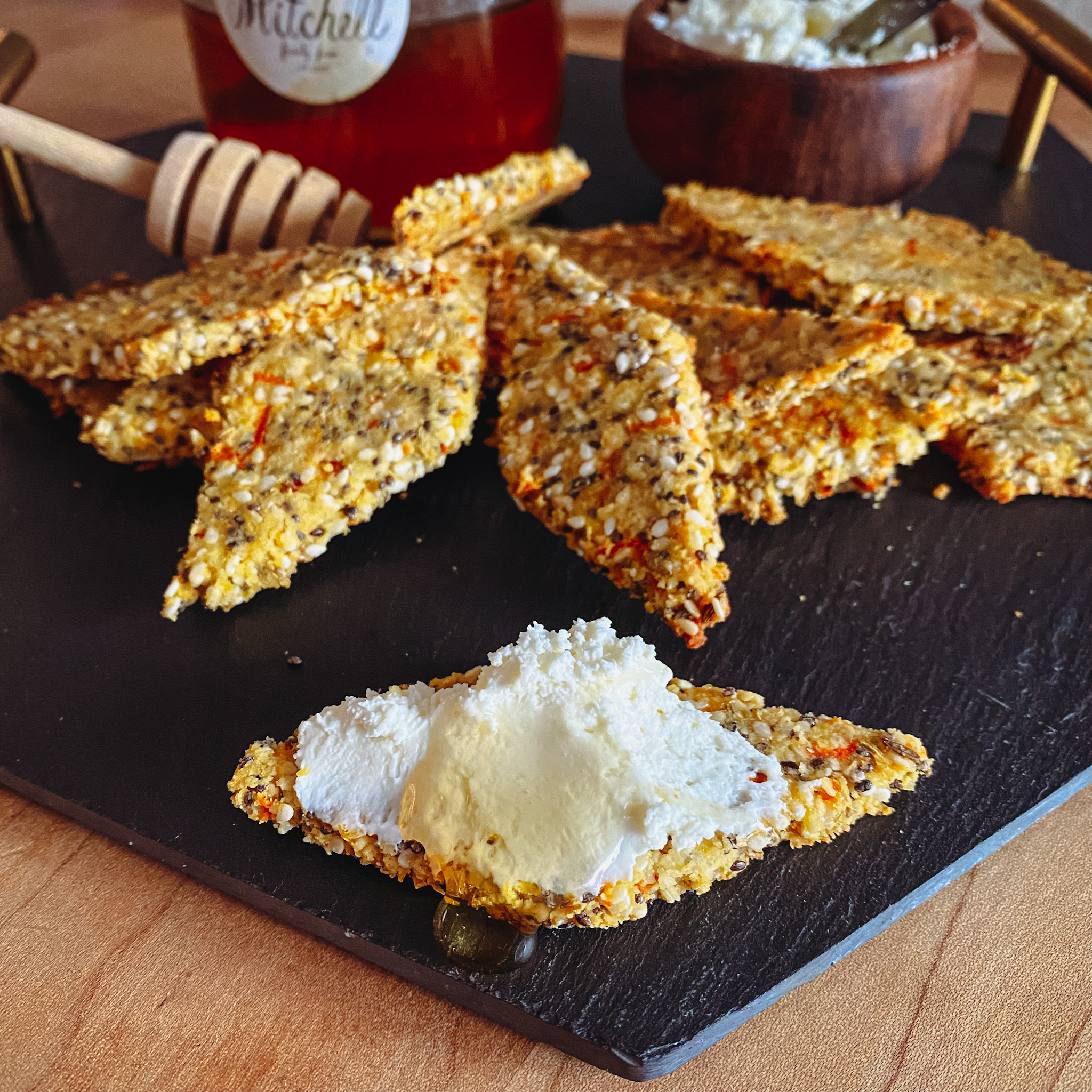 CARROT, PARSNIP & CORIANDER CRACKERS
These naturally gluten-free crackers complement any dip or spread and are the perfect vehicle to consume copious amounts of our homemade hummus. Try different combinations or use up your leftover vegetables for the perfect homemade cracker.
INGREDIENTS
2-3 mid-sized Carrots & Parsnips, grated finely (appx 100 g)
1 ⅓ Cup Ground Almonds
¾ Cup Nuts, ground finely (choose from pistachios, pepitas, sesame seeds or hemp seeds – or do a combination of more than one)
1 Tbsp Chia Seeds (optional)
1 ½ Tbsp Coriander, ground finely, (some texture is ok)
1 tsp Fennel Seeds
½ tsp Sea Salt
Black Pepper to taste, freshly ground
DIRECTIONS
Preheat your oven to 350 F and line a baking sheet with parchment paper. Cut a second piece of parchment paper the same size.
Mix all the ingredients together in a bowl, until comes together in a dough-like consistency.
Place it in the middle of the parchment paper, and using your hands flatten it into a rectangle shape. Then, using the second sheet of parchment,  and using a rolling pin, roll out so that the dough is no thicker than ⅛ inch / 3 mm.
Score it into the size of cracker you want, and bake for 10 minutes (keeping an eye on them). Take out of the oven and remove any burning bits from the edges, then return to the oven for another 8-10 minutes.
Turn the oven off and let cook in the oven for 10-15 minutes.
Serve with cheese and honey, hummus or any other dips.
Try variations by adding herbs, such as cilantro or parsley.