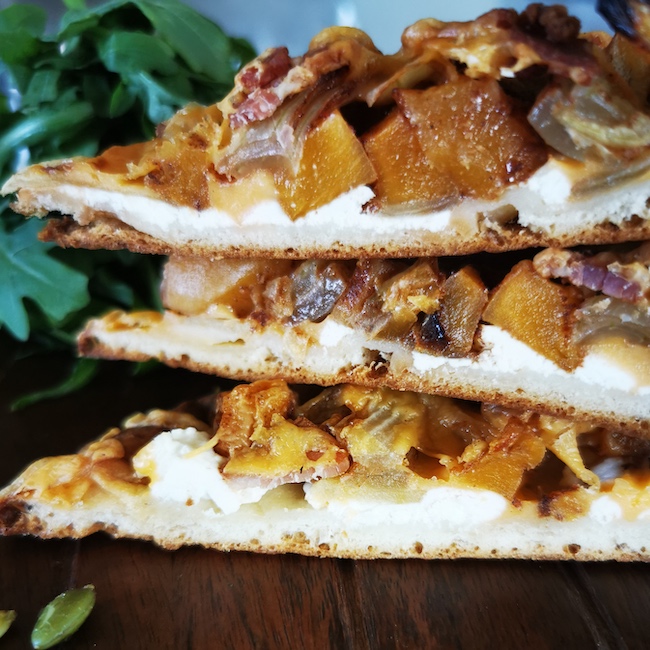 Butternut Squash Flatbread with Maple & Cinnamon
This flatbread is the epitome of autumn and an ideal snack during sweater weather. Warmed naan topped full with a sweet and savoury (and a little bit spicy) roasted butternut squash delivers homey-comfort flavours of the season with style!
A perfect appetizer for a crowd or serve with a side of salad for a light dinner for 4!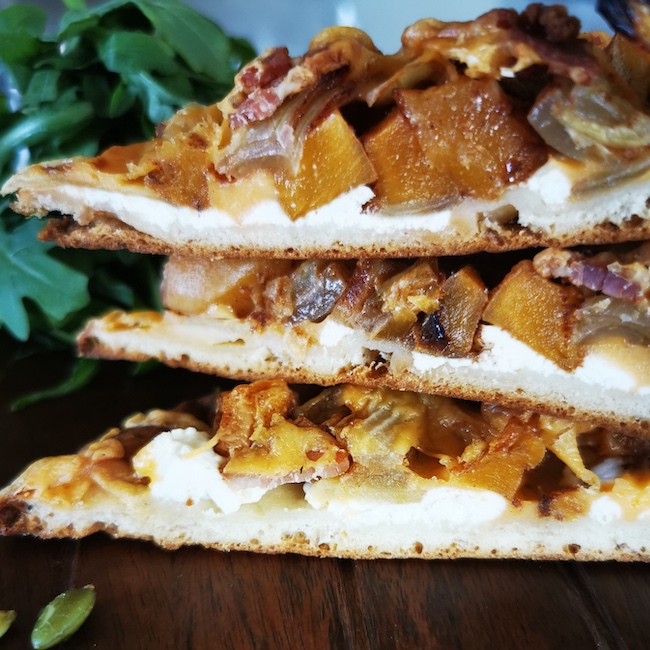 INGREDIENTS
1 pkg naan 
3 cups diced butternut squash 
1 small sweet onion diced 
227 g (½ lbs) thick-cut bacon chopped
2 TBSP Olive oil 
2 TBSP Maple Syrup
3/4 tsp cinnamon 
1 tsp Chili powder
1/2 tsp Cumin seed, crushed 
1/4tsp salt
1 apple peeled and sliced thin
8oz Sharp cheddar grated 
6oz Goat cheese 
4oz Blue Cheese (* Optional, for the blue cheese fans!)
Toasted pumpkin seeds to garnish
DIRECTIONS
Line a baking tray with parchment and preheat the oven to 425. 
Toss the diced squash and onion with olive oil, maple syrup, cinnamon, chile powder, cumin and salt.
Roast in a single layer on the tray for 20-25 mins or until fork-tender, tossing at the halfway point of your cooking time. 
While the squash is cooking prepare the naan, brushing each naan with olive oil. Dot them with the goat cheese and layer on the apple slices. 
Add an equal amount of the baked squash-onion mixture to each naan, top with grated cheddar (and blue if using) Bake for 15-20 minutes until the cheese is melted and gooey. Let rest for a few minutes, add pumpkin seeds, slice and serve!