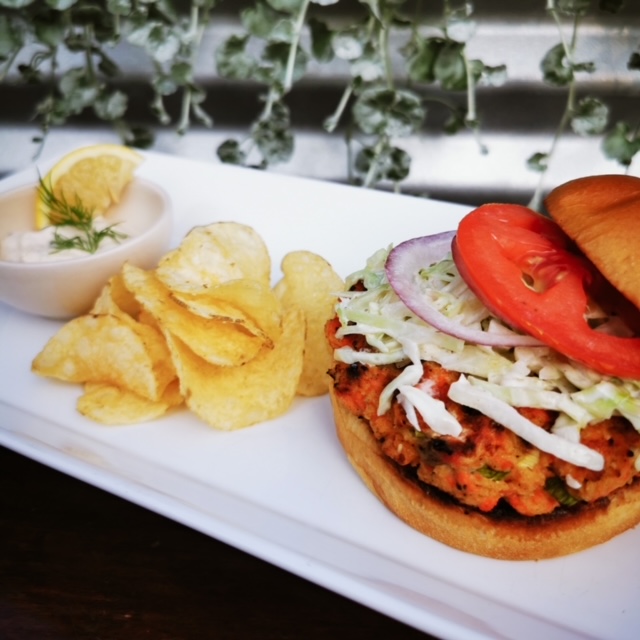 BLUE DUKE SALMON BURGERS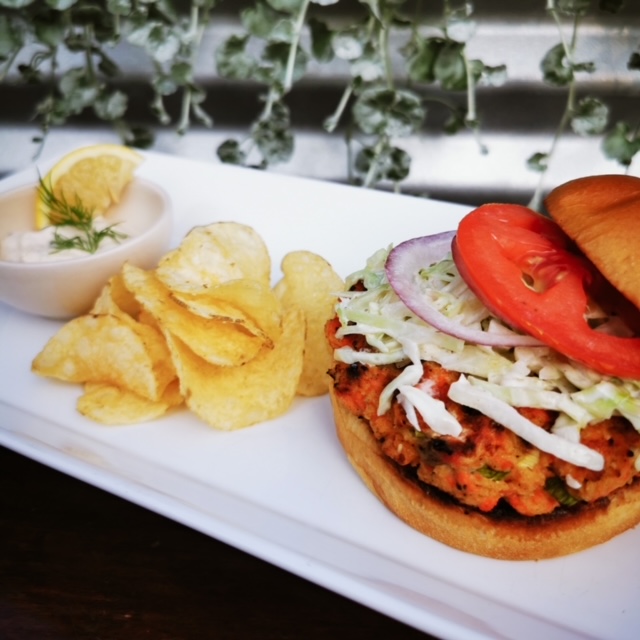 Need a change of pace dinner idea! This is a fun no-fuss meal that is especially tasty done on the grill.
INGREDIENTS – SALMON PATTIES:
650 – 700 g Salmon, (Fresh skinless, boneless), finely chopped
2 tsp Dijon Mustard
2 Green onions, finely chopped
1 Cup Panko bread crumbs
1 Egg, lightly beaten
2 Tbsp Mayonnaise
Juice ½ Lemon, freshly squeezed
1 Tbsp Parsley, fresh & finely chopped
2 tsp Blue Duke
Salt and Black Pepper to taste
INGREDIENTS – SLAW
2 Cups Cabbage, (green is best), finely shredded
1/3 Cup Mayonnaise
Juice ½ Lemon, freshly squeezed
1 clove of Garlic, crushed
1 ½ tsp Blue Duke
½ tsp Salt
INGREDIENTS – BURGERS
6 Brioche or potato burger buns
Sliced tomato
Sliced red onion
Plain kettle chips
DIRECTIONS – SLAW
Dash of your favourite hot sauceIn a medium bowl, mix together mayonnaise, lemon juice, garlic, Blue Duke, salt and hot sauce.
Add in the shredded cabbage and toss to coat. 
Cover and refrigerate while you make the patties.
DIRECTIONS – PATTIES
In a bowl, mix all of the patty ingredients and shape them into six patties. Place them on a lined baking sheet and refrigerate for 1hr, so they set up.
Preheat the grill on high and oil the grates, or use a BBQ mat to ensure the patties don't stick.
Grill the patties for about 4 minutes per side.
Alternatively, using an air fryer set to 400, air fry the patties for 5 mins on one side, flip and air fry for 3-4 minutes more.
Toast your bun, add the salmon burger, topping each one with Blue Duke Slaw, tomatoes and onion and serve with some Kettle Chips on the side.