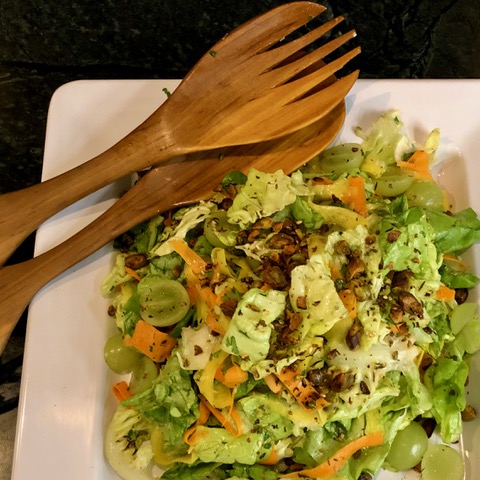 Bibb Lettuce, Carrot and Grape Salad with Pistachios and Za'atar Vinaigrette
Soft, tangy and zesty … the perfect 'it's almost spring' salad! This colourful salad combines pistachios, green grapes, shallots and cilantro with buttery-soft Bibb lettuce splashed with a fresh za'atar vinaigrette. Yum!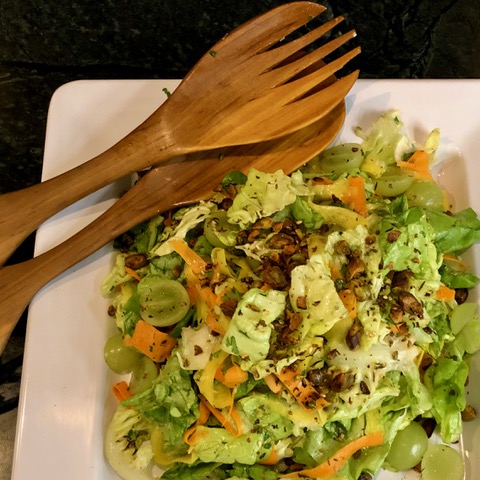 Serves: 8
Time: Prep: 20 min
Ingredients
1 large shallot, thinly sliced
1 Tbsp (15 ml) finely grated lemon zest
¼ cup (60 ml) fresh lemon juice
Kosher salt
1 cup (250 ml) unsalted, shelled raw pistachios, coarsely chopped
1 Tbsp (15 ml) olive oil
1 Tbsp & 2 tsp (25 ml) divided
1 Tbsp (15 ml) honey
1/4 cup (60 ml) extra virgin olive oil
3 large heads of Bibb lettuce (or any other kind of lettuce), about 8 cups torn into bite-sized pieces
1-pound (450 grams) medium carrots, shaved lengthwise with a vegetable peeler
2 cups (500 ml) cilantro or parsley leaves with tender stems, roughly chopped
1 ½ cups (380 ml) green seedless grapes, quartered
Flaky sea salt
Freshly ground black pepper
Instructions
Za'atar Vinaigrette
Combine shallot, lemon zest, lemon juice, and ¼ tsp kosher salt in a medium bowl. Let stand 10 minutes.
Add honey and 1 Tbsp za'atar to lemon mixture and whisk to combine. Whisk in ¼ cup extra-virgin olive oil in a slow, steady stream
Salad
Toast pistachios, 1 Tbsp olive oil and 2 tsp za'atar in a small skillet over medium heat, stirring occasionally until fragrant, about 3 minutes. Season with ¼ tsp kosher salt. Transfer to a small bowl, let cool and set aside.
Place lettuce, carrots, cilantro, ¾ cup grapes and half of the pistachios in a large salad bowl and drizzle with vinaigrette. Toss gently until evenly dressed. Season with sea salt and pepper. Top with remaining pistachios and grapes.