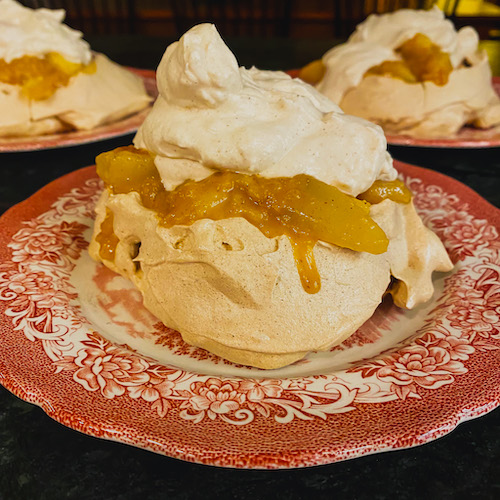 Autumn Pavlova with Cinnamon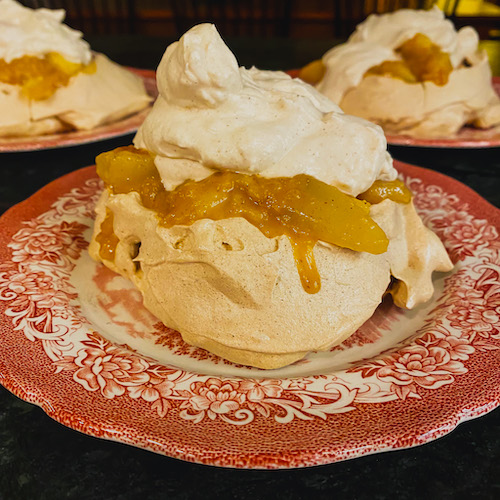 A twist on traditional pavlova, the addition of cinnamon is a cool way to incorporate a fall flavour profile to this decadent, yet surprisingly light dessert. Top it with our Apple and Pear Compote for a little extra seasonal flair.
INGREDIENTS
4 Egg Whites, room temperature
1 Cup of Sugar
3 tsp Cinnamon
1 tsp Cornstarch
1 tsp White-wine Vinegar
DIRECTIONS
Preheat the oven to 350 degrees and line a baking sheet with parchment paper
Using a standup or hand-held mixer, whisk the egg whites until starting to stiffen. Then gradually add the sugar while continuing to mix.
Then, one at a time, add the cornstarch, vinegar, vanilla and cinnamon.
Using a spoon and spatula, create 6 individual 'nests' of the whipped meringue on a baking sheet. Using the spoon, create a little dip in the middle (for the fruit and whipped cream to sit in).
As you put it in the oven turn the temperature down to 250. Bake for 1 hour. Then, if time allows, open the oven door to cool to prevent cracking.
Serve with a fruit compote or a mix of fresh berries and whipped cream.