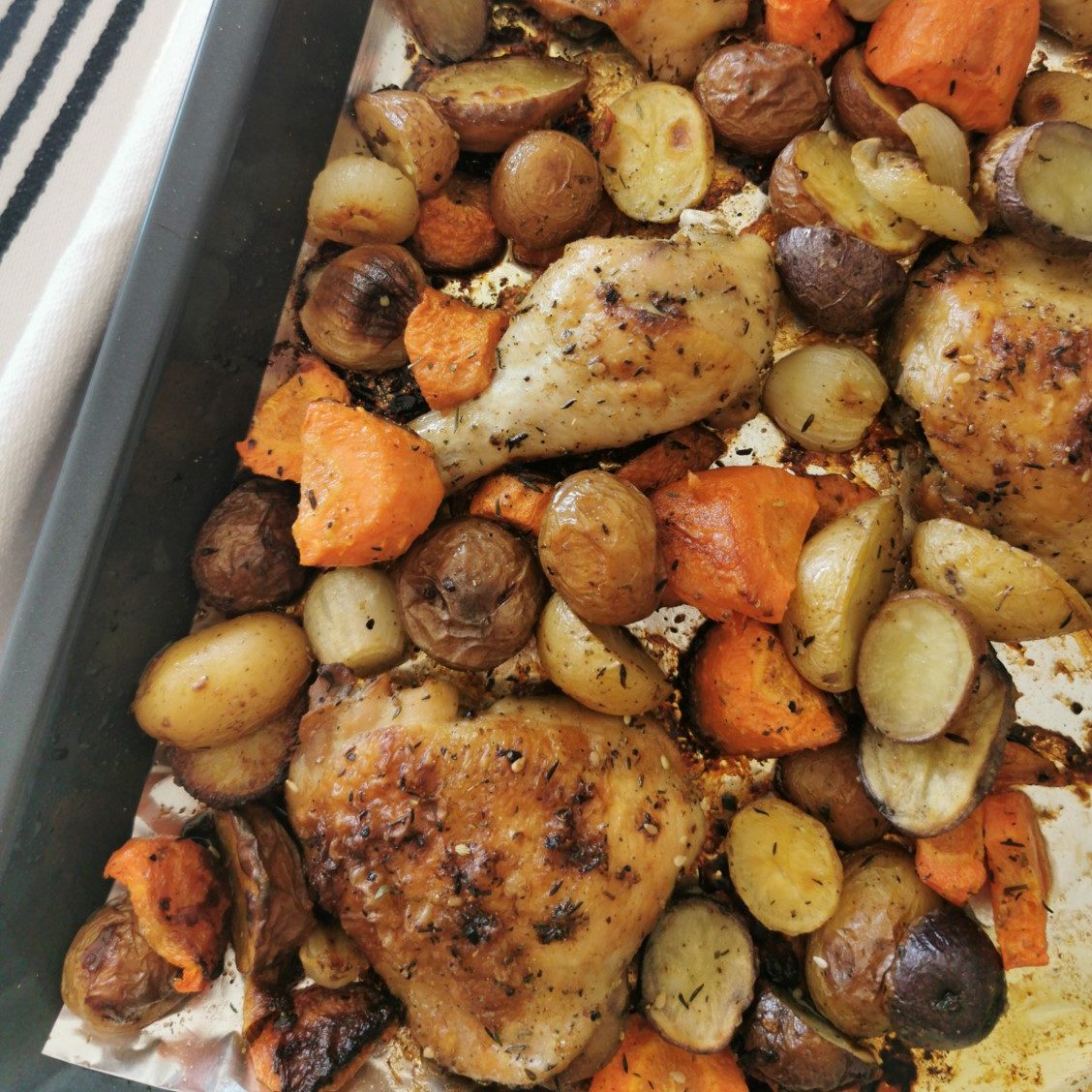 BAD AZ SHEET PAN ROASTED CHICKEN & VEG
Gimme' all the Sheet Pan, no fuss, no mess, minimal dishes recipes! This roasted chicken, crispy potatoes, and veg is a crowd pleaser! You won't believe your mouth when you taste it. The Za'atar blend gives this dish an earthy, complex, toasty flavour with a zesty zip from the sumac in the mix. Throw all the ingredients in a marinade container or resealable bag, and let the flavours meld. Marinating the chicken for 30 minutes up to overnight is the secret to success with this dish. If you're marinading overnight, don't add the veg until the last hour of marinade time.
The potatoes made with this recipe are crispy on the outside, soft in the centre, flavorful and addictive! Consider yourself warned.
Simple. Delicious.
INGREDIENTS
6-8 pieces of Chicken, bone-in, skin-on (thighs, breast, drumsticks)
¼ Cup Olive Oil
Zest of 1 Lemon
3 Tbsp Lemon juice, fresh-squeezed
2 cloves of Garlic, crushed
1 Tbsp Bad Az Za'atar
2 Cups Baby Potatoes, cut in half
1 Cup Pearl Onions, peeled, left whole
3 large Carrots, peeled and cut into pieces similar size to the potato halves
Salt and pepper to taste
Fresh Parsley, chopped
METHOD
Rinse and pat chicken pieces dry. Add to marinade container or resealable bag. Mix olive oil, lemon zest, lemon juice, garlic, Za'atar, and pour over chicken. (If you plan to marinate overnight (up to 12 hrs), don't add the veggies until an hour or two before you are planning to bake.) 
If you're baking within 1-2 hours, add all the veggies to the chicken and marinade. Give everything a good shake and pop it in the fridge.
Preheat oven to 400°F
Line a baking sheet with foil for easy clean-up. Drizzle a little olive oil on the foil spread it around with a paper towel.
Place the chicken pieces and all the veggies on the prepared pan, adding a little extra dusting of Za'atar, salt and pepper if you'd like.
Bake for 35-40 mins, rotating the tray halfway to brown everything evenly. Cook until the internal temperature of the chicken reaches 165°F.
Sprinkle with chopped, fresh parsley and a little squeeze of lemon juice to serve. Serve warm.